Hashtag is the new found love in the world of social media. Its coming across as over crowded but if used strategically, it has exponential benefits to brands. It unifies brand conversation across social media platforms harmonically. Hashtag is an opportunity to increase your brand's visibility. Lets check out a few Dos and Don'ts while using the latest tool strategically.
DO it in a simple and precise way, choose a hashtag that's easy to remember. A quality hashtag is short, catchy, and relevant to what you're discussing or want to convey.
DON'T hashtag full sentences like in the sample below. People might take you for a spammer or an amateur. Shorter phrases like #January2015 or #WorldEconomy are apt.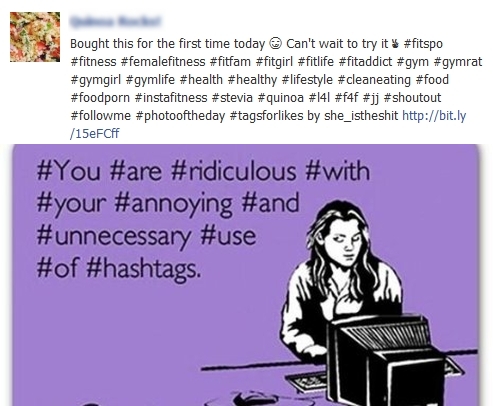 DO pay attention to the hashtags, words, and phrases your followers and influencers use when they talk about your brand, and use them in your own tweets and posts.
DON'T include spaces in your hashtag. For example, if you wanted to hashtag Bravo India, it should look like this: #BravoIndia.
DO incorporate trending hashtags. #TBT is a perfect example. Many brands use #TBT when they post a fun, historic photo that relates to their brand.
DON'T hashtag every single word in a sentence.You may come as a spammer.
DO use your hashtag consistently across all channels. Facebook, Twitter, and Instagram support hashtags so integrate your hashtag into your messaging. Your hashtag should make sense with the platform on which you're using it.
DON'T use too many hashtags in a single post. Twitter recommends no more than two hashtags per tweet.
DO analyze your hashtags. Some social listening tools, such as Hootsuite and Sysomos, can measure the impact of your hashtag. These tools can also provide insight into your audience and the types of people using your hashtag. Use this information to focus your posts to support your brand positively.
DON'T use hashtags in real life conversations, enjoy life outside work.
With a smart hashtag strategy, your followers will recall your brand with ease. Be wise and make good use of the tool you got in your hand.